Who We Are
We are a global team of passionate and curious problem-solvers. We combine higher education experience with an understanding of what top employers are looking for in their hires, and offer market-leading technology that builds the bridge between students, college and career. Our products are innovative but our way of working is old-fashioned. We listen to our partners and build custom solutions to meet their needs.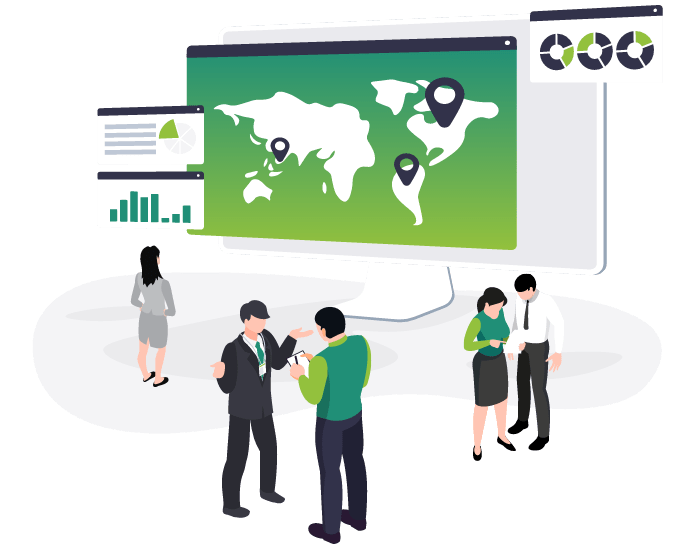 What Drives Us
Promoting access and equipping applicants to present their whole selves for opportunities across the street and across the globe. The old methods of college and university admissions, recruiting and placement are failing to meet the needs of the future we envision. We believe in the power of technology to build meaningful connections and transform outdated processes. From incoming admissions to outgoing employment, we're your end-to-end virtual engagement solution. Join us as we build bridges, increase access and level the playing field.
How It All Began
For over 25 years, our Founder, Andrew Britton, has been a leader in executive search across Asia. Working with top banks, multinational corporations, VCs and startups, he has been a partner in the search for talent and leadership in the region. What became increasingly clear to him through conversations with the c-suite was the importance of hiring diverse talent and the desire to consider a candidate holistically. Andrew realized that video engagement tools had the potential to transform recruiting and could be a huge asset in helping both applicants and reviewers make wiser choices. And so gradGREENHOUSE was born.
The products that Andrew envisioned are now helping employers make better hiring decisions and enabling candidates to stand out in a very competitive marketplace. gradGREENHOUSE creates global access to opportunities, facilitates recruitment of diverse talent and streamlines the application process to put the control back in the hands of candidates and recruiters. Our virtual engagement platforms focus on the people side of admissions and recruitment - engagement, connection and authenticity. And the rest is history.
Meet Our Team
Spread across the globe, our team is dedicated to innovation and excellence, building custom solutions to meet our partners' needs. We listen. We collaborate. We deliver.
Andrew Britton
Executive Chairman and Founder
Andrew is a leading executive search consultant with deep roots in Asia Pacific who has placed hundreds of senior executives across all functions, asset classes and divisions with leading financial institutions, multinationals and specialist startups. He understands firsthand what employers are looking for in top talent. Andrew began his career in Hong Kong with The Economist newspaper before moving into recruitment and has a passion for helping his clients - both candidates and hiring managers - become market leaders. Born in the United Kingdom and having spent his childhood in Jakarta and Manila, Andrew attended the University of Liverpool before returning to Asia to live in Tokyo, Hong Kong and Singapore.
Connect with Andrew on LinkedIn.
Saima Siddiqui
Saima Siddiqui joined gradGREENHOUSE as CEO in 2020, and is an experienced higher education leader who is passionate about recruiting talent and building healthy and successful organizations. She has advised hundreds of universities on career development and building the bridge from college to career in her most recent role at The Washington Center, and built and led a world-class Career Services team at the National University of Singapore Business School. Throughout her career, Saima has seen the value that diversity brings to organizations, and the critical importance of connecting talent with opportunity, and democratizing search. Saima is keenly aware of the challenges facing higher ed, and believes gradGREENHOUSE is uniquely positioned to partner with leading institutions to innovate for the future. Saima has served on and led nonprofit boards, and in 2019 was selected as an Aspen Institute Fellow in Philanthropy and Social Innovation. Saima is a graduate of Northwestern University and University of Pennsylvania.
Connect with Saima on LinkedIn.
Business Development and Relationship Manager
Connect with Elaine on LinkedIn.
Contact Us
We would love to partner with you!
Contact us
to learn more about gradGREENHOUSE, our products, and the future of higher ed admissions and early career recruiting.